Oaxaca to Wisconsin: An Immigration Story
The Mixe people of Oaxaca, Mexico call themselves "Ayuujk Jaay" which translates as "people who speak the mountain language". They are known as the never conquered people. For centuries the Mixe have been traveling merchants throughout their mountains and beyond. Travel has brought back a filtered selection of ideas and technology from the outside world. They maintain their roots by speaking Ayuujk, practicing their pre-hispanic religion (Nagualism) and governing themselves communally. Music has a long lineage of teachers that extend throughout generations and the region, creating a cohesion between districts. Their beliefs and lifestyle involve a reverence for nature as a source for their spirituality as well as livelihood.
Tamazulápam del Espíritu Santo is the capital of one of the Mixe districts. Many of the people who leave their home to look for opportunities elsewhere end up moving to Milwaukee, Wisconsin. This immigration started around 20 years ago with only a few individuals. Milwaukee now has a large amount of "Ayuujk Jaay", numbering between 500-1500 people, all from this one small region of Oaxaca. They fulfil the need for workers in factories and construction. Most of the immigrants come with the plan of staying for a few years only, hoping to return to Oaxaca with enough money saved up to build a house and start their own business back home. This often turns into a longer stay as money isn't always what it seems, and lifestyles change. Many end up starting families in Milwaukee and their children are Americans who don't have the same connection to their roots.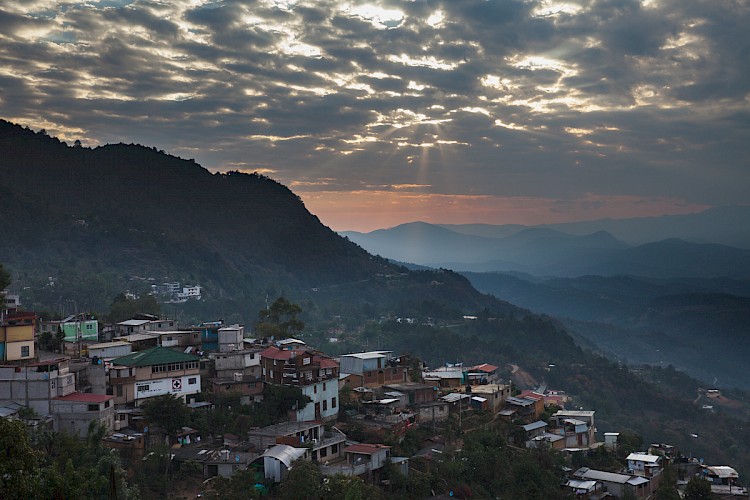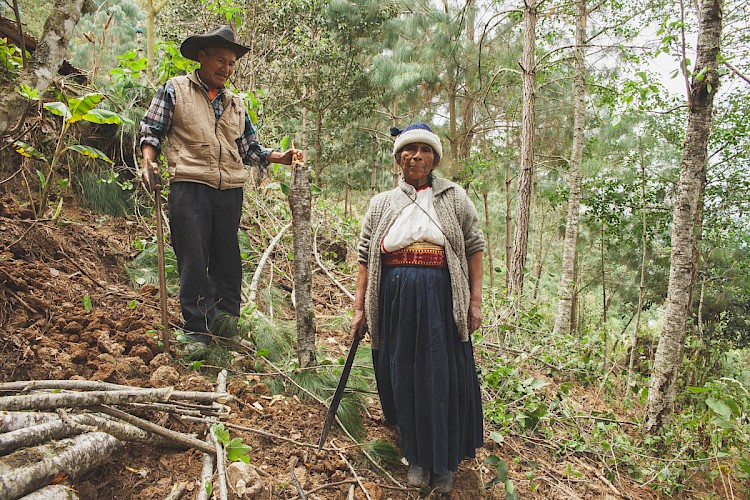 A grandfather and grandmother work to clear some land in the woods. In Mixe culture, it is seen as important to be active in daily life no matter what age they are.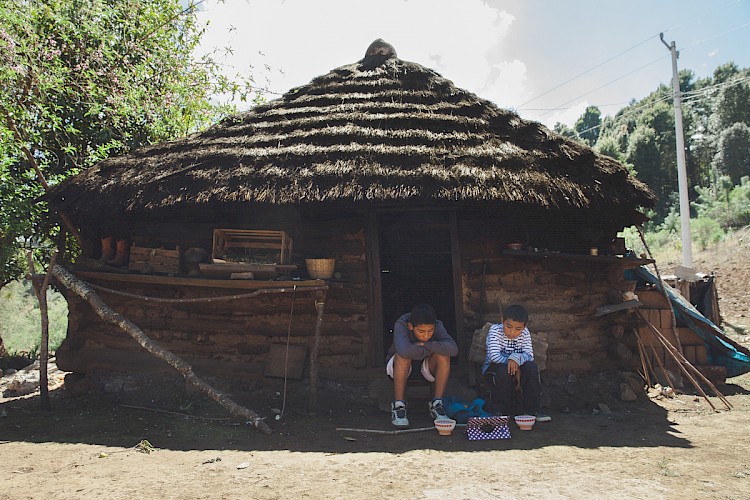 Two brothers watch cartoons on a tablet in front of a traditional house in the mountains of Oaxaca. While there is almost no cellular service or internet in most of the region, people find ways to get a dosage of technology.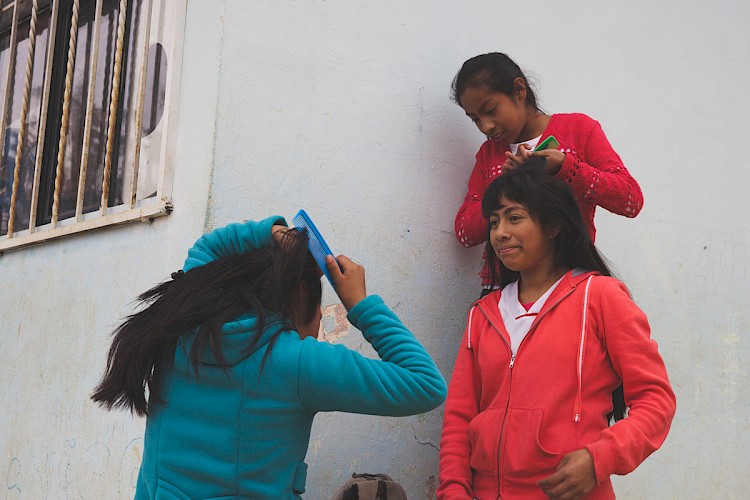 A group of young girls prepare for a community basketball game. Sports keep kids busy and healthy, they take pride in looking good and playing well.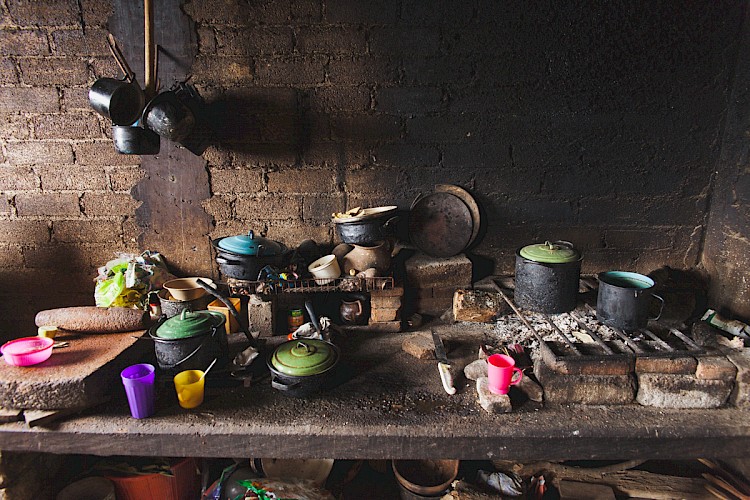 A typical kitchen.
Georgina tells me stories about earlier times when her family would go into the woods together daily to collect firewood. Most of her children have migrated out of the region to find work and start their own families.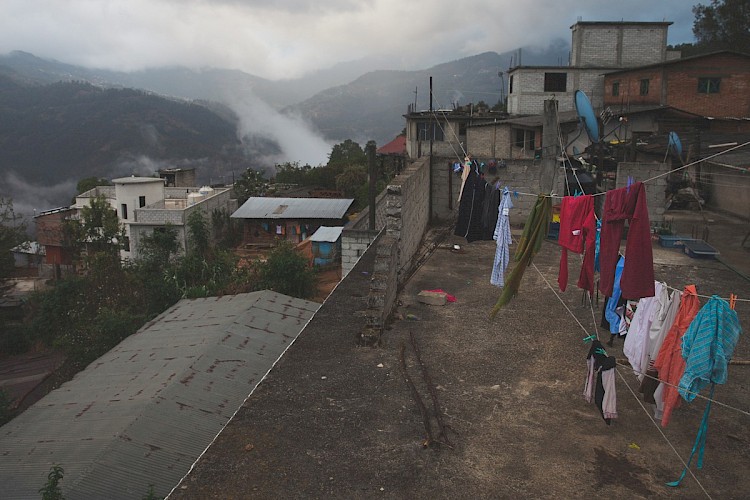 Early morning clouds roll into Tamazulápam as the day begins.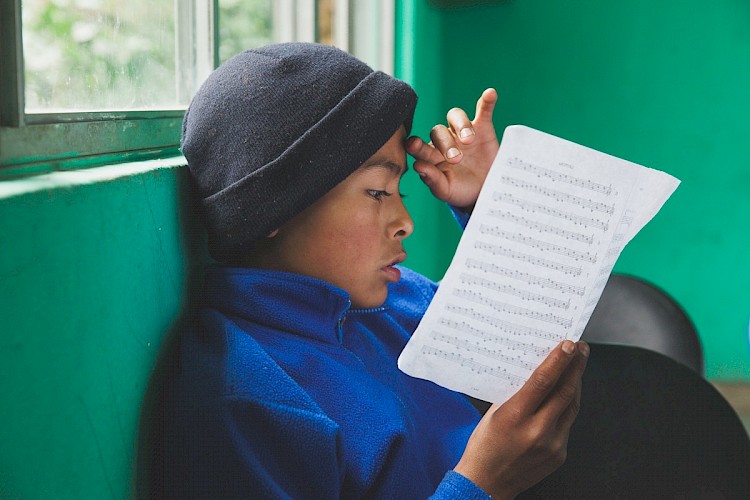 A music student studies his notes. Mixe people have a long musical tradition whose legacy is continued through the efforts of students who later become teachers, travelling the region to maintain a structured learning system.
Tamazulápam continues to grow into a large town. Immigrants send money back home regularly to construct more modern homes that they one day hope to return to.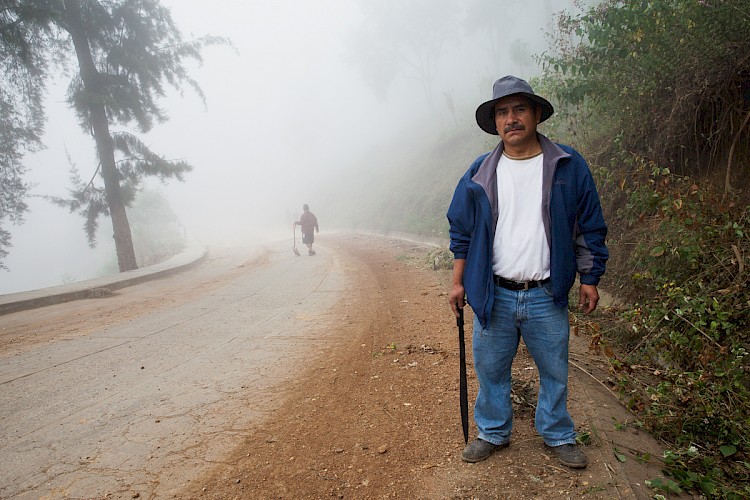 Amando is doing his required community service called "Tequio". On this occasion, the whole town works in crews to pick up garbage, clean roads and do general beautification to their neighborhoods.
Back at his house, Amando shows me postcards and photos. He lived in Milwaukee Wisconsin for more than 15 years and was one of the first Mixe immigrants to arrive. He left his wife and 2 children in Wisconsin to come back to Mexico to fulfill community obligations and other legal reasons which are making it difficult for him to return.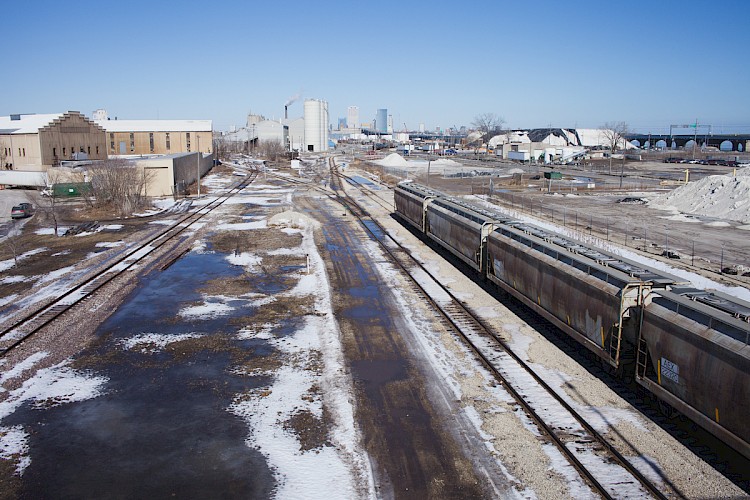 Milwaukee, Wisconsin. A large number of Mixe immigrants come specifically here to find work and life opportunities.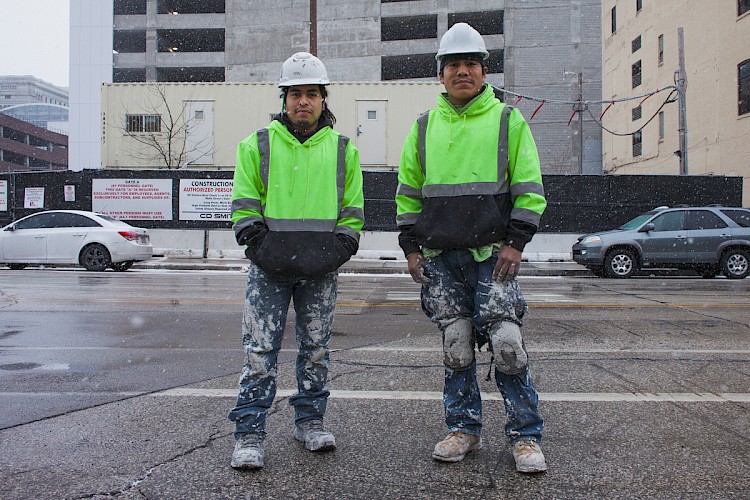 Two construction workers finishing their shifts as snow begins to fall.
While tacos are not a traditional food of the Mixe people, they are known for success in taco businesses throughout Mexico and the United States.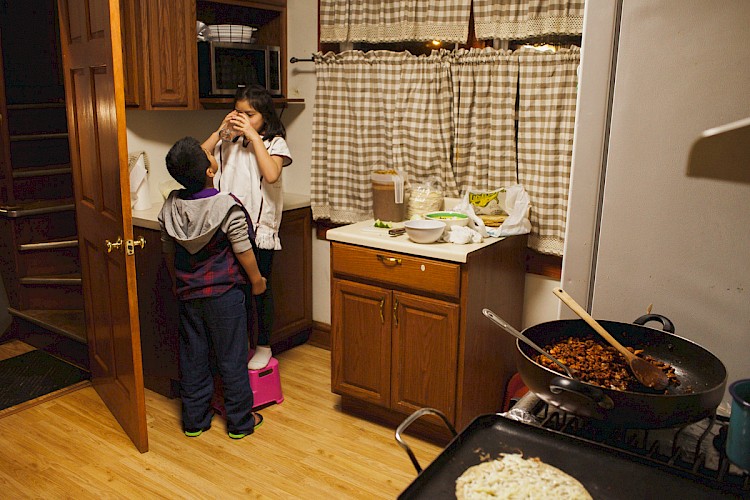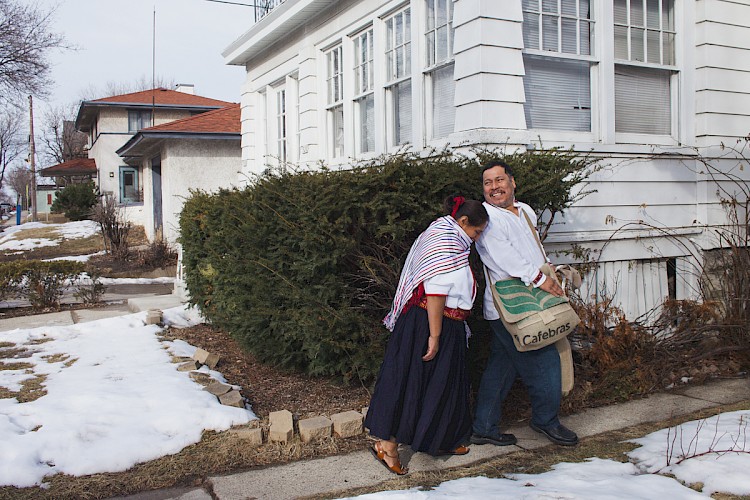 Life in the suburbs.
Milwaukee is mostly welcoming to Mexicans as their labor is needed and many services cater to their needs.
Quiño takes his dogs out while he enjoys a cigarette. He tries to relax on his days off, but often end up on the phone helping less experienced workers handle problems.
A couple and owners of Los Gemelos Tacos, in downtown Milwaukee. Other than tacos, one can find a selection of dishes that are specifically regional to the Sierra Mixe mountains of Oaxaca, Mexico.
A saturday night basement band practice. Continuing the musical traditions of their home is a way for many Mixe immigrants to have fun and maintain a sense of the communal life they left behind.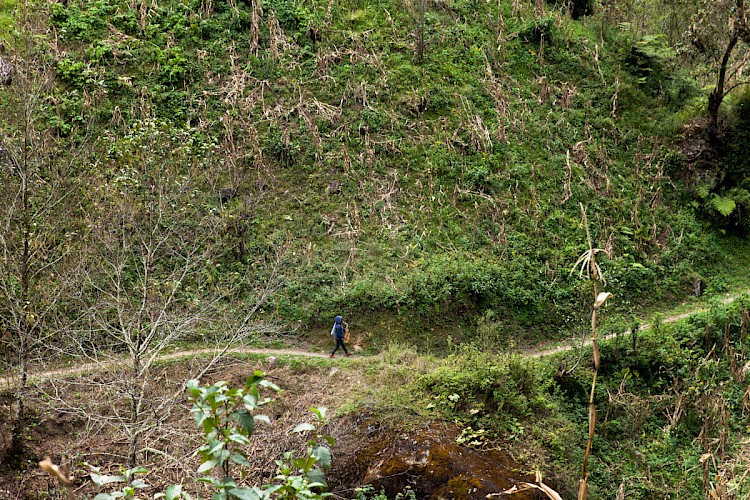 Back in Mexico, a music student carries her saxophone through the hills.
A young lady observes her land as planting season has arrived and much work will need to be done.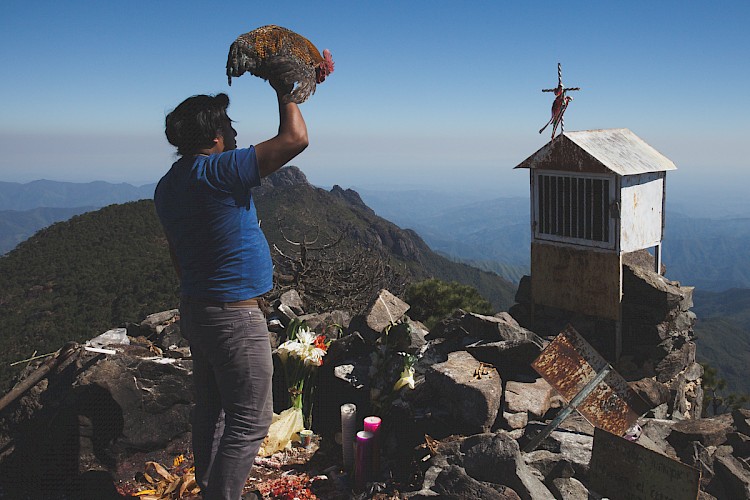 On top of Cempoaltépetl, the highest peak in the Sierra Mixe mountain range and a sacred location, Timio performs pre-hispanic rituals to ask for spiritual help for his brother who has immigrated away from home.